Rich Cats are the world's first customizable NFTs


Smart contracts for NFTs and tokens are expected to arrive in the next TON update. Specially for the occasion, together with the developers, we have described the structure of NFTs and how they operate. Today we will talk about NFT market – both in our network and outside it.
Looking at dozens of projects of the same type, we saw that most of them do not have any unique idea that could broaden the scope of NFTs. TON blockchain brings revolutionary ideas whenever it goes, so we decided to go beyond frontiers and do something really unique, the avant-garde project aimed at drawing the global NFT community to TON blockchain.
Rich Cats are the world's first customizable NFTs exclusively for Telegram. You can use them as avatars, transfer them to other people and sell them on TON marketplaces.
The key feature of our NFTs is to modify them by adding accessories and clothes to an existing character. This became possible only on TON blockchain thanks to NFTEditable extension described in our review article about NFTs.
How this works?
After the collection is officially released, you will get access to a special page to modify your NFTs. At the same time, we will start publishing the first items and accessories that you can use to create unique looks for your NFT cats.
From the begging, each NFT will have a starter set of clothes. All cats have the same cost at the presale stage, so you can get very rare and expensive copies that will cost after the release several times higher than the original price.
All items and accessories can be bought, sold and exchanged using the official TON marketplace. We focus on maximising the quality, recognition and value of our NFTs.
We also plan to launch clothing collections in collaboration with famous services and brands, both inside and outside of TON. These items will be distributed through raffles, airdrops for private channels and loot boxes – items like these will be extremely rare and can increase the value and uniqueness of your NFTs. You can see the sneek peek of our constructor and some experimental models below.


The uniqueness of each NFT is ensured not only by adding various elements, but also by different themes and character skins. Clothes is only the second layer used to increase value and uniqueness.
Clothes and accessories
After the launch of the collection, we gave away 6,659 NFTs for free to Rich Cats NFT owners – you can already find starter clothes on marketplaces.
You can buy amazing outfits from various collections on marketplaces, but don't forget that each Rich Cat and each Outfit, Glasses, etc is a separate NFT item so they will always be sold separately.
👔 Outfit ›
🕶 Glasses ›
🧢 Hats and hairs ›
🧷 Piercing ›
Dressing room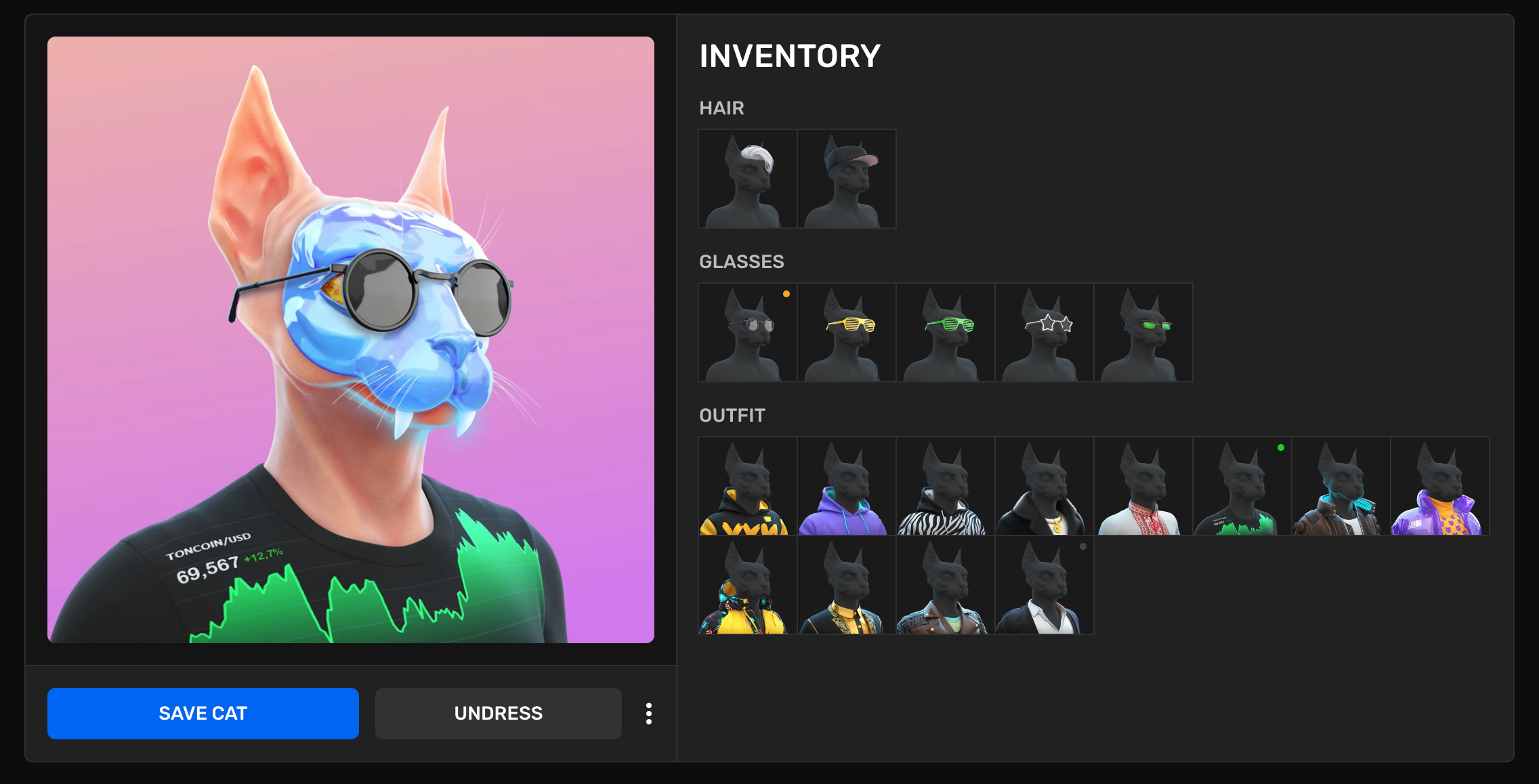 After purchase, you can modify your NFTs on the page. We have already started publishing new collections on our channel, with which you can create accessible images for your NFT cats and thus provide their supplies.
Integrations
About 3 years ago, our team launched one of the first TON blockchain validators, we also created the largest products and services: Russian TON channel, tonscan.org explorer, ProTON private channel, tonblockchain.ru, ton.cat and many others.
Our priority is to create a complete ecosystem of apps, bots and services based on TON. We plan to integrate our NFTs into this ecosystem. More details about each integration will be published on our official channel.
In addition, TON blockchain team is currently negotiating integration into Telegram messenger, and in the near future we expect a series of news on the results of these negotiations. As always, our subscribers will receive information before others, stay tuned!
Any questions?
If you have any questions or issues related to our services, contact us via @faqbot and we will help you solve your problem.